archr
Simple yet powerful Archery Records Management
Join
archr

!

If your club uses archr and you have been given a code to sign up, enter it here:

Sign Up for Club

...Or if you're an individual, you can create an account using the button below!

Create Individual Account

If you'd like to create an account for a club, read on below...
Have an account? Login Here: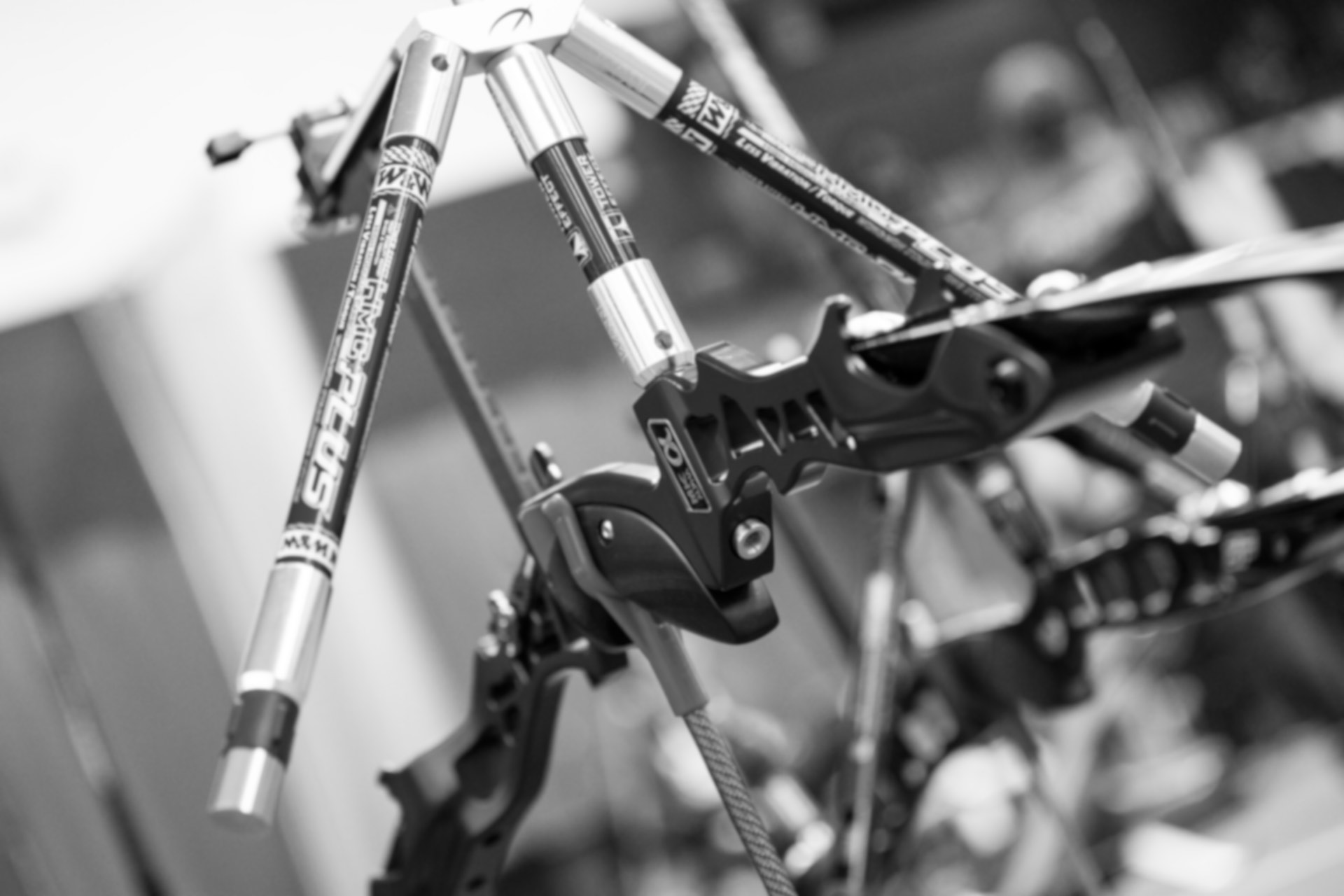 Background image by David Richardson.
What is

archr

?
archr is a highly automated online archery records management system.
The goal of the system is to provide both clubs and archers with a powerful yet convenient way to manage their scores and track progress.
So far, archr has recorded...
54,688

scores

25,442,701

points

4,773

archers
Interested in trying archr? Click one of the buttons below to sign up for a free 14-day trial!
If you want to sign up a club, choose 'Create Club', otherwise choose 'Individual' to create an individual account.
We also have a handicap calculator freely available to use.
Key Features
For Archers
Submit scores anytime, anywhere, from any device.
Have handicaps and classifications automatically calculated for every score, even for rounds without official tables.
Automatically track and update your continuous assessment handicap.
Keep a training log, and share this with a coach who can comment on your performance and give feedback and advice.
For Clubs
Instantly look up the handicap and classification for any club member.
Generate beautifully formatted PDF reports of key information.
Display club session times to members, and track who is and how many people are attending sessions.
Create club leagues for made score, and handicap adjusted made score - all of which are tracked automatically.
Screenshots
Archer Profiles
Each archer has their own profile, which displays recent scores, graphs, personal bests, and statistics!
You can also see an archer's current handicaps and classifications on their profile.
Don't worry - archers can make their profiles private if they wish.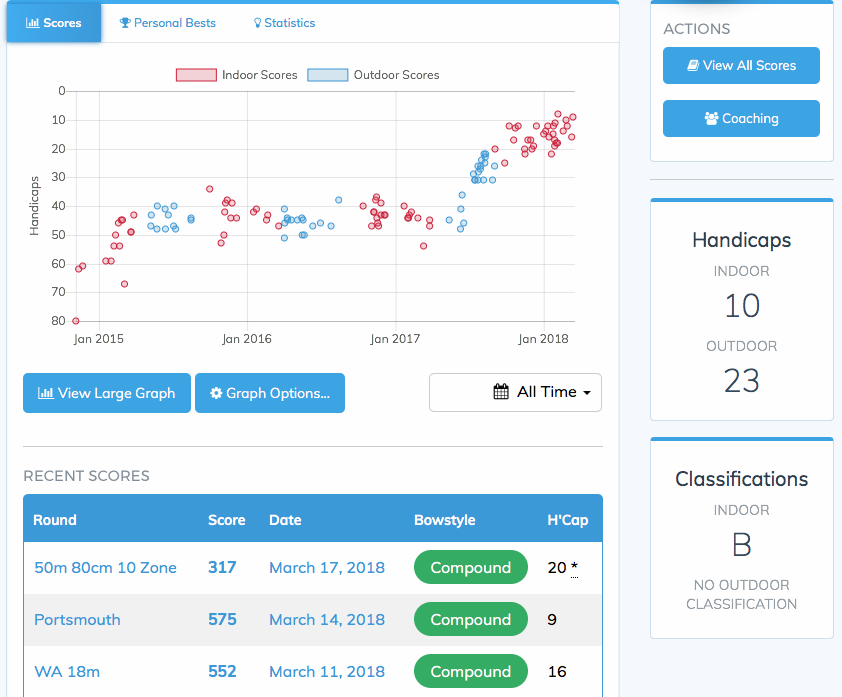 ---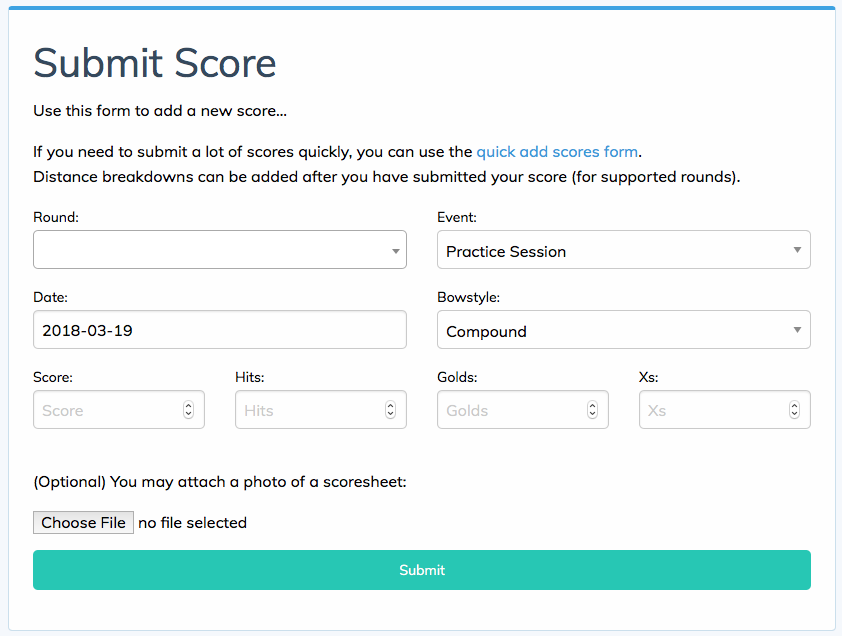 Easy Score Submission
Archers can submit scores easily, from any device with an internet connection.
You can even upload a picture of a scoresheet to store alongside your scores!
---
Score Breakdowns
For rounds which are made up of multiple distances, archers can store a breakdown along with every score.
You can also click on the table headers to see a list of all scores for that distance!
---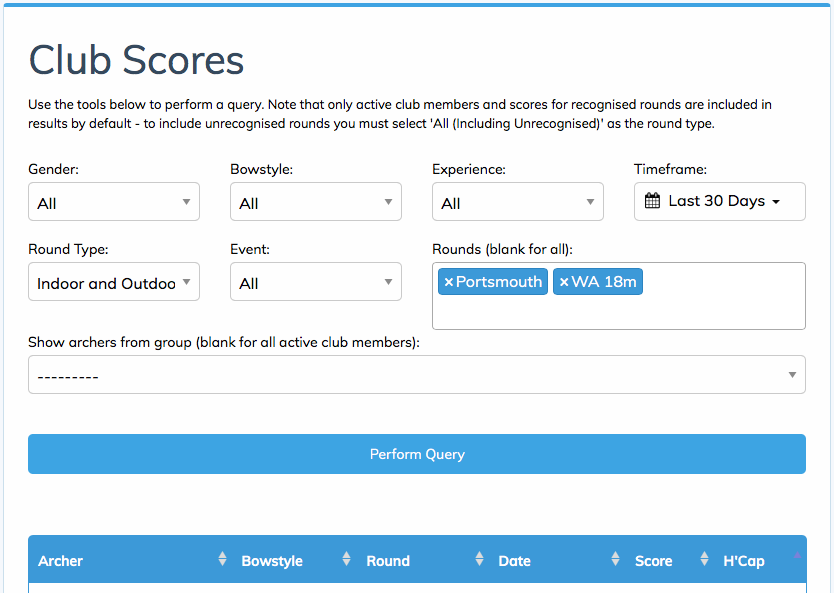 Score Queries
Specified members of your club have the option to perform queries to see all the scores shot by members over a given time period, and for given categories.
Other reports including current handicap and average score handicap are also available!
---
Permission System
Use a simple role-based permission system to control which members of your club committee can perform certain tasks relating to your club.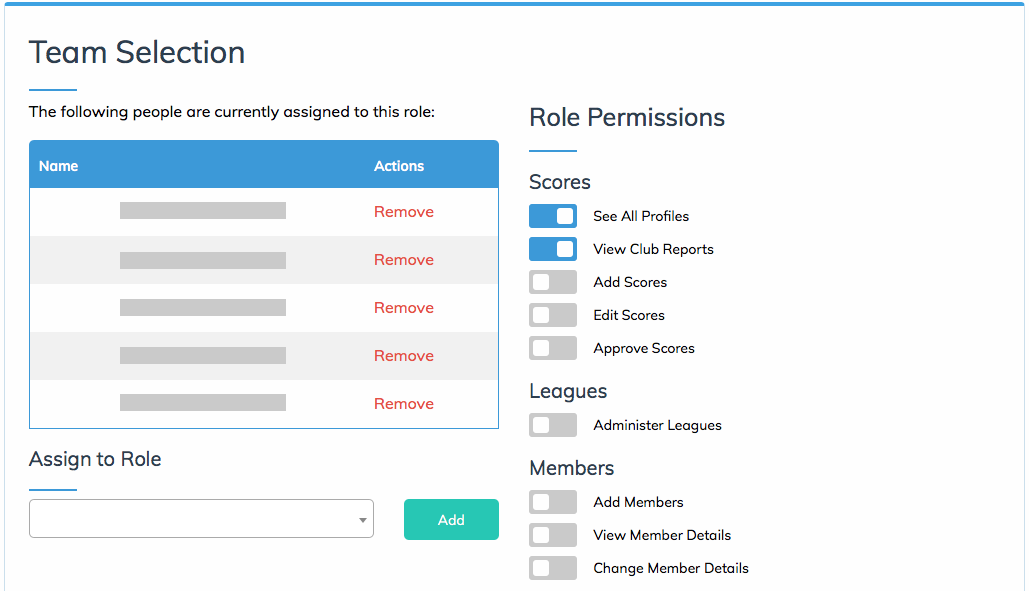 ---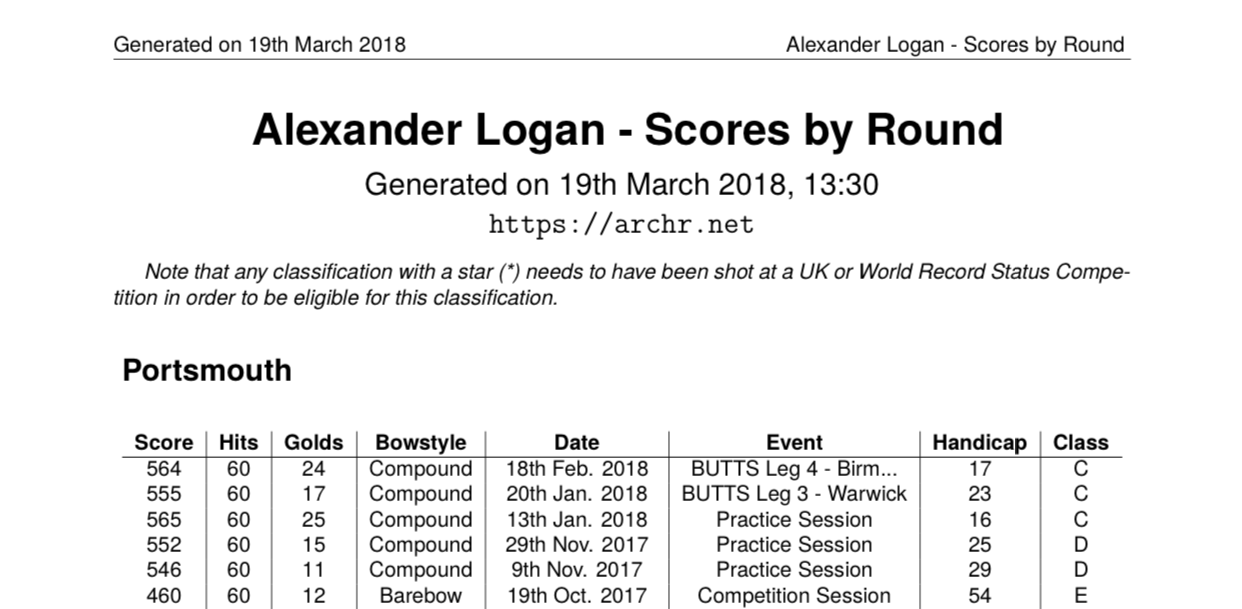 PDF Reports
Export scores by archers as beautifully formatted PDF files. You can generate reports for all indoor scores, all outdoor scores, and all scores by round.
Some club reports are also able in PDF formats.
Availability and Pricing
At the moment, archr only supports the UK handicap and classification systems.
Current pricing for the system is as follows (following your initial 14-day trial period):
For Clubs
For Individuals
...And if your club decides to sign up within the first month of you having purchased an individual subscription, we'll transfer your account and give them a month free!
No payment information is required until the end of your trial, so feel free to sign up and give the system a try!
Who is building
archr

?

The archr system is being built by Alexander Logan, current records officer of the University of Warwick Archery Club and Computer Science student at the University of Warwick.

I chose to build this system to give everyone a great way of keeping track of their scores and progress, and reduce the amount of routine work (and mistakes) needed in my position of records officer.

Since then, even more features have been implemented to give other committee members further insight into the club for purposes of administration and team selection, and to give coaches and club members a way of more easily recording advice, progress, and goals.

In the future, I would like to evolve the system into somewhat of a social network for archery, connecting people across the country from many different clubs.